Skull Cleaning, Whitening with options of Custom displays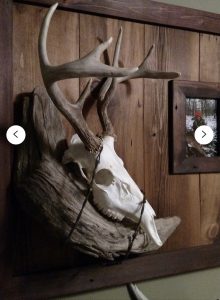 Have the Skull of your trophy animal made into a Euro Skull, Antler mount, or Have your Trophy Cleaned whitened, and place onto a custom-built background to save your trophy for a lifetime. We have many options for plaques. Backers, Hangers Etc. and also will help you design and build your own custom display.
In a world of limited time not only do we can take care of your meat processing, and making some of the greatest products in the area we now also handle your trophy for display all at the same place. No more driving to the taxidermist, butcher, and Custom display builder; here at B-N-B we now do it all for you at one place and at a price, you can't beat.
As a Bonus during Archery, Muzzleloader, or late season flintlock if you harvest a deer and would like a Beautiful Euro mount, or Antler Display we guarantee you to get your Skull back in 2-3 weeks with all your meat processed at the same time!!! That doesn't happen anywhere else but here at B-N-B. WE are the premium one-stop shop for the busy hunter who wants quality products at a competitive price.
Skulls can be dropped off Year-round by appointment or in-person during PA Deer Season.
Pricing
Whitetail and small game animals
$100 for skull cleaned, whitened, and sealed
$150 with Plaque of choose
Wild Boars / Bears / Ram / Sheep
$150 for skull cleaned, whitened, and sealed
$200 with Plaque of choose
Elk/ Stag / Moose / Exotic Animals
$250 for skull cleaned, whitened, and sealed
$325 with Plaque of choose
Cattle / Horse / Farm Animal with or without Horns
$250 for skull cleaned, whitened, and sealed
Custom Backgrounds and Mounts can be designed for Custom Price
Also have No Show Skull Hangers for Sale
$11.99-$19.99 for White Tail / Wild Boar / Bears
$29.99-39.99  for Elk / Stag / Ram / Exotics
We are a proud authorized Sales rep of Skull Bracket products and can assist you in a wide variety of products to fit your needs.